Melamine tabletops: new finishings 2021 for contract furniture
At Reyma we are committed to quality but also to innovation. For this reason, this year 2021 we "put on the table" 3 new finishes for the tops made of melamine from the FINSA y EGGER brands.
As usually, they will be available in 10 different pre-cut sizes, ready to ship. In addition, you already know that you can request custom manufacturing in the format that best suits your needs or combine them with our table columns in both iron and cast iron.
We like to offer you a finish at the level of your business installation, that is why our contract furniture complies with all quality guarantees and also, in the case of melamine boards, we finish edge with the same material so that continuity is complete and so the highly satisfactory appearance.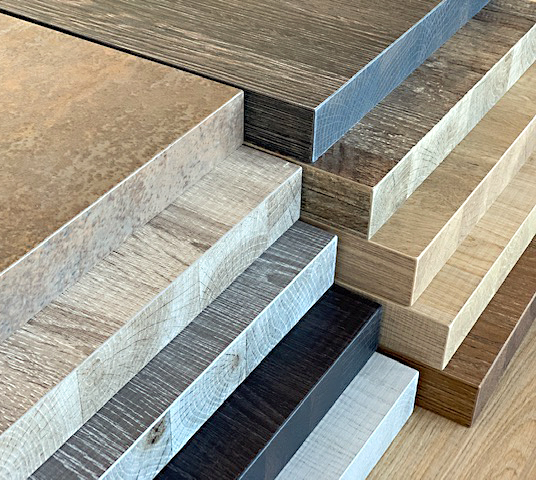 We launch three brand new finishings for melamina tabletops for this year. KARAMEL, EBONY and BRONZE will set your spaces and facilities into a fresh look.
Each one is designed to combine with a type of furniture and to adapt to more minimalist, chic or rustic styles of interior design (contact us if you have questions or need advice)
The KARAMEL melamine finish presents us with a sweet and curved wood grain, soft and comforting. While the BRONZE finish looks for the opposite, an almost rusty look ideal to use in more industrial environments or that evoke a colder and untreated surface … For its part, the new EBONY finish imitates the wood of this tree, darker and perhaps for more sober environments or those seeking to highlight the contrast with furniture in lighter tones.
What is your favorite, or what other would you like us to add to our catalog?